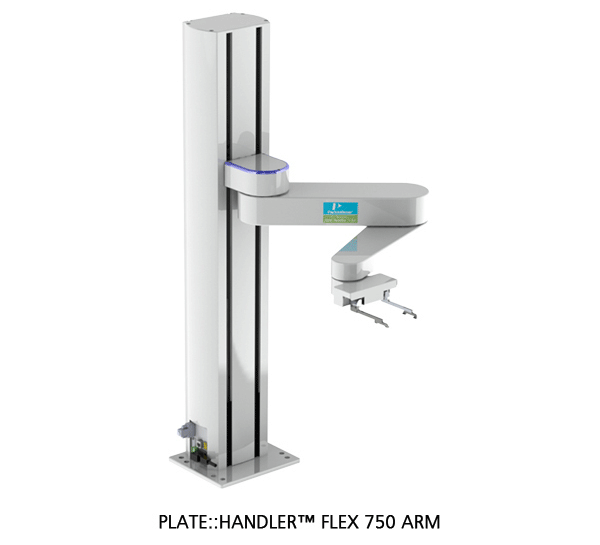 PerkinElmer's four-axis SCARA robot with built-in safety features enables a side-by-side human-robot corporation without shielding. Its full metal casing space-saving design and high-end motion controllers guarantee fast, smooth and quiet movements.
Transform Your Devices Into a Complete Workflow Solution
plate::handler™ FLEX Collaborative Arm
Traditionally, industrial robotic arms used in laboratory automation have required shield and redundant safety measures to isolate robots and operators. The plate::handler™ Flex collaborative robotic arm is a next-generation industrial robotic arm that has been designed to allow safe, side-by-side cooperation with humans. Consequently, the plate::handler Flex collaborative robotic arm will enable the design of workstations automating scientific workflows that do not require expensive and cumbersome safety shields thereby allowing operators to interact with their systems much more closely.
plate::handler™ FLEX Line Up
Specifications
| | |
| --- | --- |
| Maximum reach | 576 / 731 mm (EXT version) |
| Maximum z-travel | 400 / 750 / 1160 mm |
| Maximum speed | 500 mm / sec |
| Repeatability in all directions | +0.2mm |
| Linear Axis (optional) | 1.0 m, 1.5 m, 2.0 m |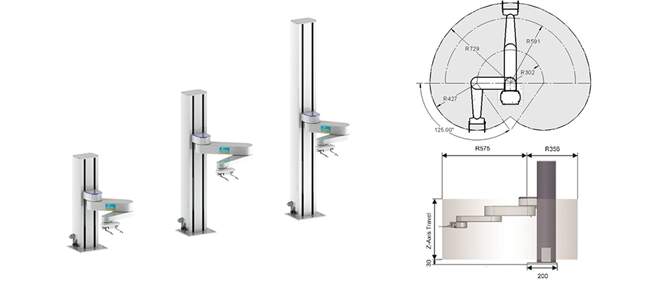 Additional Specifications
Self-contained robotic arm designed for industrial applications
Two different arm lengths with an option to increase lateral reach by placing robot on a linear track (1.0, 1.5, 2.0 m)
Built-in servo gripper enables robotic arm to grip labware on either the short or the long side and changes the gripping orientation (landscape or portrait) anytime throughout the screening run
Hand-guided teaching empowers users to swap out instruments and/or to change system configurations with minimal effort and training
Alternative Robotic Arms
plate::hander industrial robotic arm series
Twister® III robotic arm
For research use only. Not for use in diagnostic procedures.