Deeper Insights From Your Most Demanding Assays
The Opera Phenix Plus high-content screening system's innovative optical design lets you generate richer information through extremely sensitive confocal imaging and at higher throughput than ever through simultaneous acquisition. Because spectral crosstalk is reduced to a minimum, it delivers speed without compromising sensitivity. With proven automated water immersion lenses, you'll achieve higher throughput and richer content, making it the ideal high-content screening system for discriminating phenotypes and studying complex disease models. And with its liquid handling option and fast imaging frame rate, you can tackle fast-response assays such as calcium flux or cardiomyocyte beating.
Speed or Sensitivity – No Compromise
Proprietary Synchrony™ Optics combine a microlens enhanced Nipkow spinning disk with dual view confocal optics to separate fluorescence excitation and emission during simultaneous acquisition minimizing spectral crosstalk – for greater speed and higher sensitivity.
Up to four large format sCMOS cameras with simultaneous acquisition in up to four channels, so you can generate images of exceptional quality - faster than ever
Custom-designed high NA water immersion objectives to capture more photons and provide high image resolution even in thick samples
State-of-the-art sCMOS image sensors deliver low signal-to-background noise, a wide dynamic range and high resolution – ideal for sensitive and quantitative measurements at short exposure times
Spinning microlens disk with increased pinhole-to-pinhole distance to further reduce out-of-focus noise in thick samples such as microtissues
Spinning disk optics and precise synchronization of the excitation laser and camera to minimize phototoxicity and bleaching for live cell assays
Widefield or confocal imaging modes depending on your assay requirements
Fast laser-based autofocus to ensure sharp confocal images from every field
Modular design to adapt the system to your changing application needs – choose from single, dual or four camera configuration with four solid state lasers or a five laser system optimized for FRET applications
Capture Fast Cellular Responses
The system's imaging frame rate of up to 100fps is well-suited to assays that measure the beat-rate of cultured cardiomyocytes, as often used in cardiotoxicity studies. And the fast imaging frame rate, together with the dispense and read capabilities of the optional pipettor module, enables fast response assays in which cell responses occur within milliseconds to seconds – notably calcium flux assays.
Tip-based pipettor compatible with PerkinElmer 20µl and 200µl tips, 1-200µl in 1µl increments
Compound addition from one compound plate and one reservoir, up to 2 additions per well
Compatible with 96- and 384-well sample plates
Environmental control - temperature, CO2, and humidity
Compatible with automated exchange of sample plate, tip racks and compound plate
Liquid handling module is compatible with brightfield imaging
Opera Phenix Plus Configurations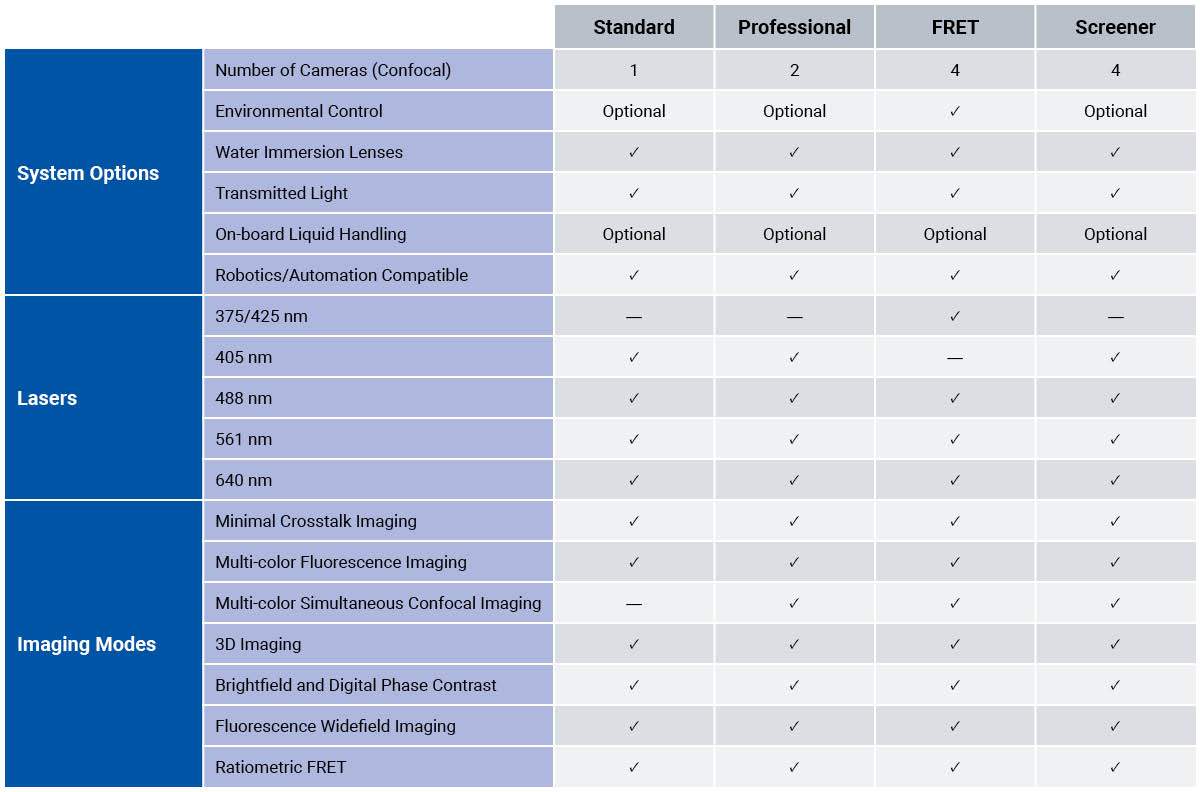 It All Comes Together in Harmony® – Acquisition to Analysis Made Easy
Intuitive workflow user-interface guides you through the entire process, from acquisition to analysis and evaluation
Templates for set-up of acquisition channels and parameters to get you productive right away
Ready-made solutions for common image analysis tasks so you can simply select and go
Image analysis building blocks that allow you to create, configure, and customize your own high content analysis applications
Advanced analysis features such as texture and STAR morphology analysis for detailed descriptions of cellular morphology and robust differentiation of cellular phenotypes
Data management for automatic storage of analysis results and metadata, such as assay layout, instrument, settings, plus user-defined keywords, and annotations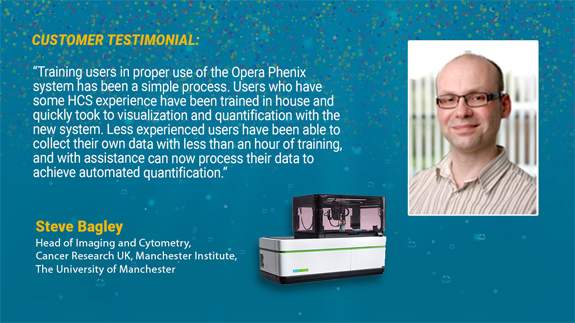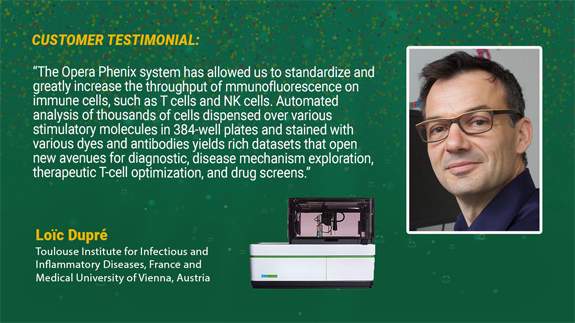 Your Total Solution for High Content Screening
Get better results from your Opera Phenix Plus system with our microplates for high content screening, such as the PhenoPlate™ 384-well microplates designed for optimal performance in high content imaging applications and our CellCarrier Spheroid ULA plates for imaging 3D models
Improve throughput and productivity, and reduce variability and reagent costs by automating your Opera Phenix system, or benefit from automated workflows with the explorer™ G3 workstations for cell painting, 3D cell culture or phenotypic screening
Export results automatically into Signals Image Artist™ Image Analysis and Management platform, so you can access, re-analyze, store, and share all your cell image data from Opera Phenix Plus and other HCS systems
Use with Signals VitroVivo to perform screening data analysis and validation, QC analyses, calculate reliable normalization, multivariate hit stratification, dose response curves, and drug response profiling